1. Weekly Incentive
Earn more for each job milestone completed based on your city!
Klang Valley

As shown in the image above, here is an example of the total weekly completed jobs:

✅ If you completed at least two (2) Buddy Driver jobs : 💰 5 jobs (2x Buddy Driver jobs + 3x SOCAR-2-YOU jobs) - Get RM20 💰 6 jobs (6x Buddy Driver jobs) - Get RM20 💰 11 jobs (2x Buddy Driver job + 6x SOCAR-2-YOU jobs + 3x Trevo Custodian) - Get RM50

 
Penang, Johor, Seremban, Ipoh, Melaka, Langkawi & Sabah

✅ If you are based in

Penang, Johor, Seremban, Ipoh, Melaka, Langkawi & Sabah and completed at least any one (1) Dash job:

💰 5 jobs - Get RM20 💰 10 jobs - Get RM40 💰 20 jobs - Get RM60 💰 30 jobs - Get RM80 💰 40 jobs - Get RM100
---
2. First Job Incentive 💙
Earn a minimum of RM50 for completing your first job!
If your first Dash job's fee is lower than RM50, you will be incentivized with the difference. Here is an example calculation: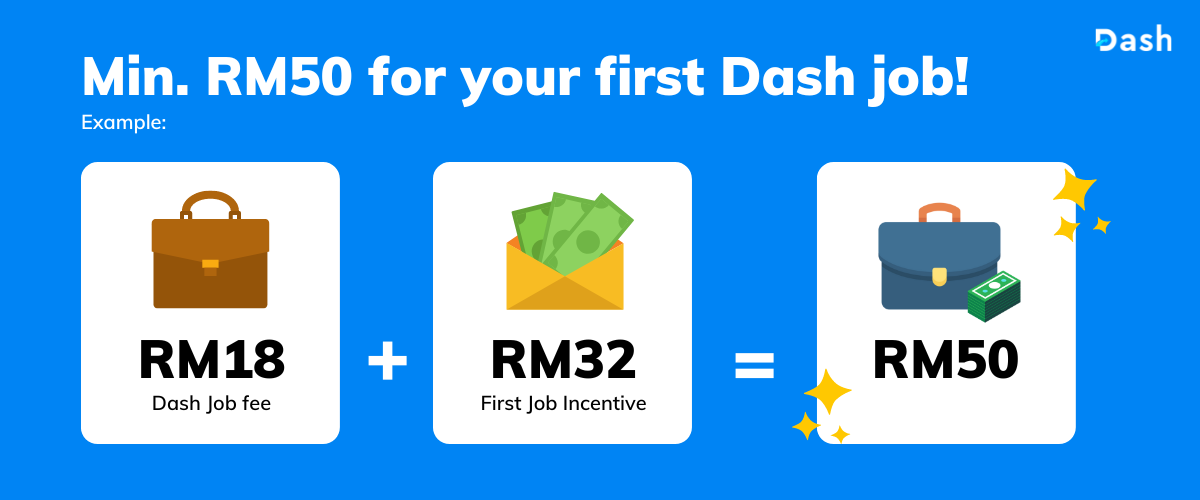 ---
3. First Buddy Driver Job Incentive 💜
Complete your first Buddy Driver job and earn an EXTRA 50% bonus! *Maximum amount is capped at RM25. Here's an example to help you understand:
---
4. DAILY Buddy Driver Incentive 💥
Earn RM30 for every 3 jobs completed within the same day!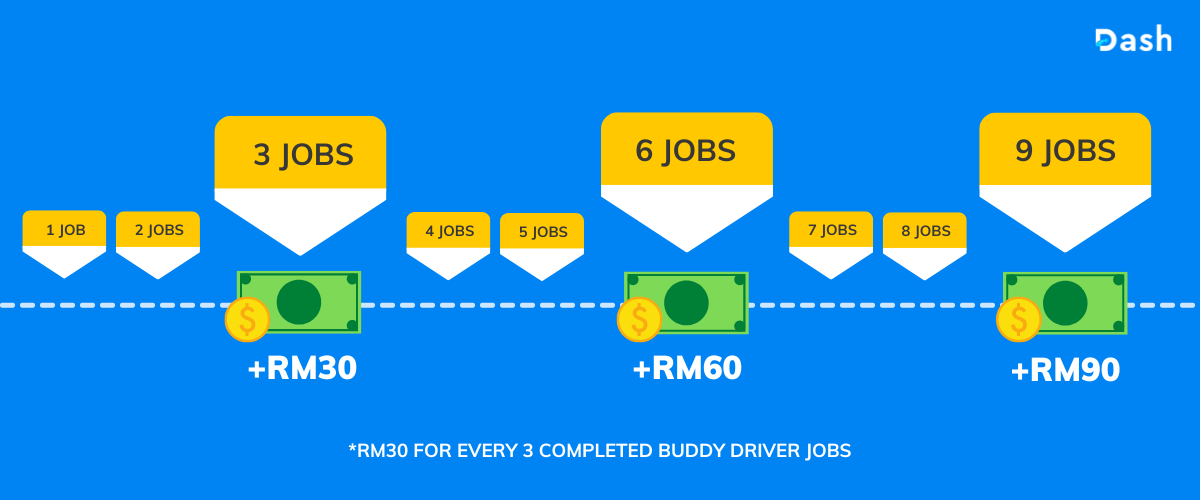 If you complete 3 Buddy Driver jobs within the same day, you will earn:
✅ EXTRA RM30 on top of your job fee ✅ DOUBLE of your Weekly Incentive
🕖 ONE (1) eligible day starts from 6:00pm until 6:00pm the next day
Tap
here
👈🏼 
to find out more about Buddy Driver jobs!
---
5. Fuel Incentive ⛽
Earn 10% more when you refuel a SOCAR during your SOCAR-2-YOU & SOCAR+ jobs!
To the ones who refuel SOCARs during Dash jobs, this one is for you! 🤩 Now, you can earn by driving & refuelling cars on Dash! 🚙⛽
Ensure you take a clear photo of your Physical Receipt to submit your claims.
 Any fraud attempts will result in penalty!
---
6. Shuttle Service
Get a FREE ride from Job - End Location back to your Job - Start Location or the closest LRT/MRT station!
Enjoy the convenience and reduced travelling costs with our FREE Shuttle Service that assists you to complete your Dash job.
When you accept a Buddy Driver job within the eligible areas, you will receive an SMS to notify you.
Learn more about Shuttle Service
here
👈🏼
Shuttle Service is currently available in Klang Valley ONLY.
❌ Shuttle Service request got canceled (between 10pm - 7am)?
Shuttle Driver is late (more than 20 mins after Job End Time) Shuttle Driver not assigned (after job start time) Shuttle Driver requested to cancel Shuttle Driver unreachable Customer changes Drop-Off location (more than 2km) Customer extends booking time (Job End Time changes)
P/S: Available for Buddy Driver jobs (between 9pm-7am) ONLY
---
7. Late Night Incentives 💥
Claim up to RM40 from 10pm to 7am!
As we prioritize our Dashers' safety, this is an initiative to help Dashers reduce travelling costs, provide convenience & ensure your safety at night.
Late Night Incentives are provided by tier! The later your Dash job, the more incentives you will receive!
All Job Types (No Shuttle Service Requested)

| | |
| --- | --- |
| Time | Late Night Incentive |
| 10:00pm - 11:59pm | Up to RM10 |
| 12:00am - 3.59am | Up to RM15 |
| 4:00 am - 7:00am | Up to RM20 |

 
Buddy Driver (with Shuttle Service Requested but failed/cancelled)

| | |
| --- | --- |
| Distance (KM) | Late Night Incentive |
| 0 - 10 | Up to RM10 |
| 11-20 | Up to RM20 |
| 21-30 | Up to RM30 |
| 31 and above | Up to RM40 |
Find out Late Night Incentives T&C
here
👈🏼
---
8. Monthly Personal Accident Insurance
Get insured FREE when you complete one (1) job per month!
Just by completing ONE (1) job
, you will get
FREE Personal Accident Insurance
covered (up to RM10,000) for that whole month itself!
Here's what you'll get : ✅ Medical Expenses of RM300. ✅ Permanent Disablement of RM10,000. ✅ Death of RM10,000.
NO application is needed. You will automatically be insured once you complete your first job of the month.
---
9. Referral Incentive
Earn RM50 each when your referred friend/family completed their 1st job!
Get your unique referral code from the Dash app & share it with your friends & family today!
Learn more about our Dash Referral Program
here
👈🏼
All incentives are valid from 5 June 2023 - 2 July 2023.
Terms & Conditions - Applied To All

All jobs MUST be completed to be entitled to the incentives stated above.

Incentives are rewarded based on Job Completion Time. Kindly ensure to "Mark Job as Done" to avoid missing out on your incentives.

The week starts on Monday & ends on Sunday.

All individual initial Terms & Conditions apply.