How Will You Earn?
The power to choose your working hours and the jobs you want to do.
What Will You Do As A Dasher?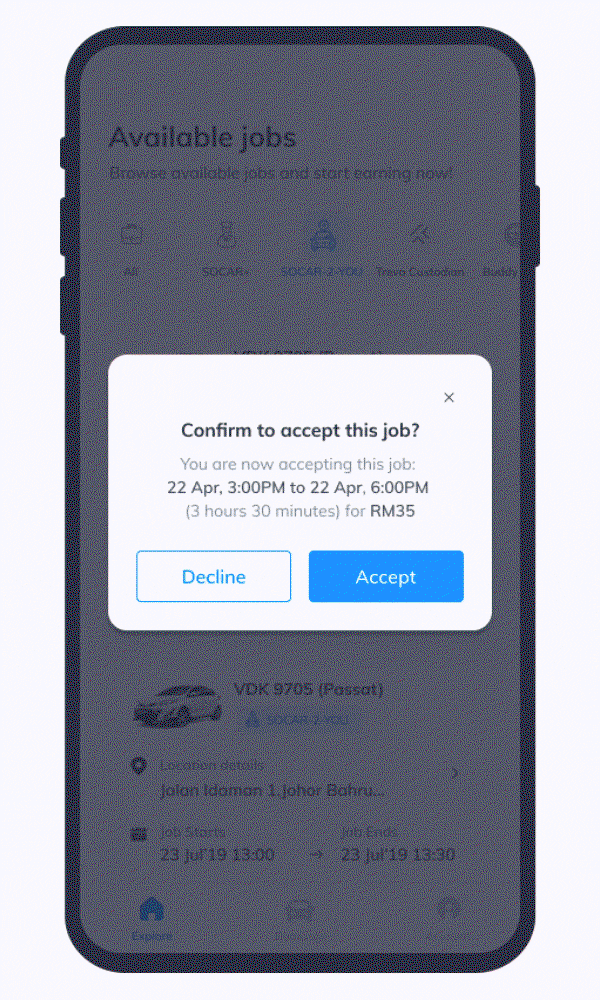 1.
Choose & Accept a SOCAR-2-YOU job
You may view and select jobs by filtering job types. Check locations, time & job fees before accepting the job.
Arrive at the Pick-Up Location to pick up the car.
Deliver the car to the Drop-Off Location.
Available Service Areas
Frequently Asked Questions (FAQ)
What should I do if the car is dirty?

If time allows, do send the car for a quick wash. Otherwise, please inform live chat, send pictures, and wait for further instructions.
Can I start the job early?

We do not recommend starting the job any earlier than 10 minutes from the Job Start Time as you will not have smart key access to start the job. Also, this is to avoid having to wait for the cars to be returned by the customers.

For eg.: Your job starts at 12pm, you may arrive and start the job at 11:50am.

P/S: Any earlier 10 minutes, Dash/SOCAR is not liable for any outcome.
What should I do if I am running late?

Please inform live chat to avoid being penalized.
I can't find parking at the Drop-Off Location. What should I do?

Park the car at the nearest/closest to the requested location

Snap a clear picture of the surroundings

Send the pictures and a WhatsApp message to the customer to inform
I have arrived but can't find the car/the car is not there. What should I do?

Please wait for a maximum of 15 minutes. If the car is still not found after 15 minutes, please go to live chat to request assistance.

P/S: If you insist to wait, DASH/SOCAR is not liable for any outcome.
Can I leave the car unlocked and the engine running when handing the car to the customer?

No, the engine MUST be turned off and lock the car before handing the car over.
What should I do if I face problems with the app?

a. Refresh the app by closing and opening the app again.

b. Restart your phone.

c. If possible, delete and redownload the app.

d. Take screen recording video of the issue/glitch

If none of the above works, please go to live chat to get assistance to complete the job. Also, submit the recording video and state the issue on Feedbacks form (Dash app > Account tab > Feedbacks button) so we can investigate further.
Would my job be cancelled?

Cancellation of jobs may occur as customers may extend the time of their booking. Customers may also cancel their bookings.
Are there any incentives? 💰

Yes, there are. Find out about our incentives

here