How Will You Earn?
The power to choose your working hours and the jobs you want to do.
What Will You Do As A Dasher?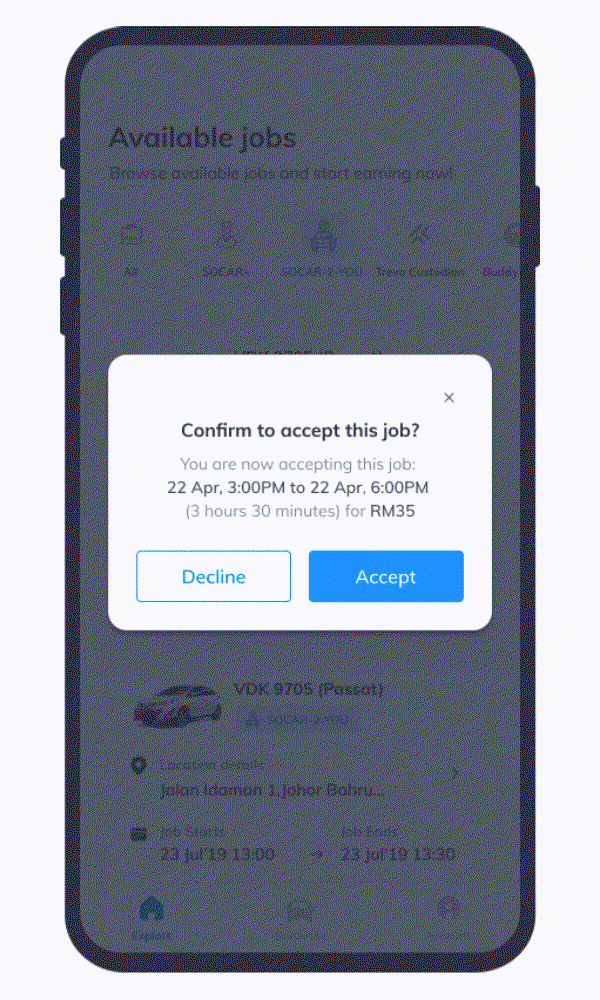 1.
Choose & Accept a TREVO Custodian job
You may view and select jobs by filtering job types. Check locations, time & job fees before accepting the job.
2.
Pick Up the Car
Arrive at the Pick-Up Location to pick up the car.
3.
Drop Off the Car
Deliver the car to the Drop-Off Location.
Available Service Areas
Frequently Asked Questions (FAQ)
How/Where do I get the customer's details?

You will be able to start your job 10 mins before the Job Start Time. Once you have submitted your selfie verification, the customer's contact details will be displayed within the app. Please contact the customer before driving the car.
Can I proceed even if the customer does not answer their phone?

No, do NOT start your journey until you get to contact the customer.

Try Whatsapp call because some host/guest gave a WhatsApp number.

P/S: If there is no response from the customer in 15 mins, please go to live chat and wait for further instructions.
I arrive at the Pick-Up Location but I am unable to find the car and also can't reach the customer. What should I do?

Please go to live chat to inform and wait for further instructions.
What if the customer change location last minute?

Please inform live chat before proceeding to continue. The live chat agents will give you further instructions.
What should I do if the customer requests to drive a car different from the job details?

Please inform and check with live chat before you start the job to avoid any confusion. Also, to ensure you get paid the right amount.
Should I wait if the customer says he/she will arrive in 30 minutes?

No, do NOT wait any longer than 15 minutes. Please go to live chat to request for the job to be cancelled.

P/S: If you insist to wait, DASH/SOCAR is not liable for any outcome.
Are there any incentives? 💰

Yes, there are. Find out about our incentives

here