What is Waze?
Waze is a navigation app that offers community-based traffic and real-time data from other Waze users that are on the road The aim of this app is to help you avoid traffic and always take the best/fastest route to your destination.
Other than Google maps, Waze has become one of the most popular and widely used navigation apps in Malaysia. Its ease of use and excellent performance with the information provided by the app's users have made it one of the must-haves app when travelling.
How Useful/Helpful is Waze?
1. Select Your Preferred Route
After entering your destination, Waze's default route will automatically select the fastest route based on its calculation of the shortest real-time traffic and road information provided by drivers on the road.
Tap on 'Routes' to see other available alternatives. From there, you may also view and select routes with or without toll, construction, if there are accidents, police, etc. Also, the respective route's distance and the estimated time of arrivals.
2. Find The Nearest Petrol Station
Is your car running low on gas during the drive?
Tap on the 'Where to?' search bar on the home page, you will see the Petrol ⛽ icon right below. It will show you a list of nearby petrol stations around your location and the time of each petrol station from your route.
3. Sync To Calendar & Facebook
If you love being punctual and accurate when scheduling events, this feature would be great for you - to 'Connect Calendar' or 'Connect Facebook' to Waze. This allows Waze to read and analyze the traffic patterns and give you an alert notification on the best time to start your journey.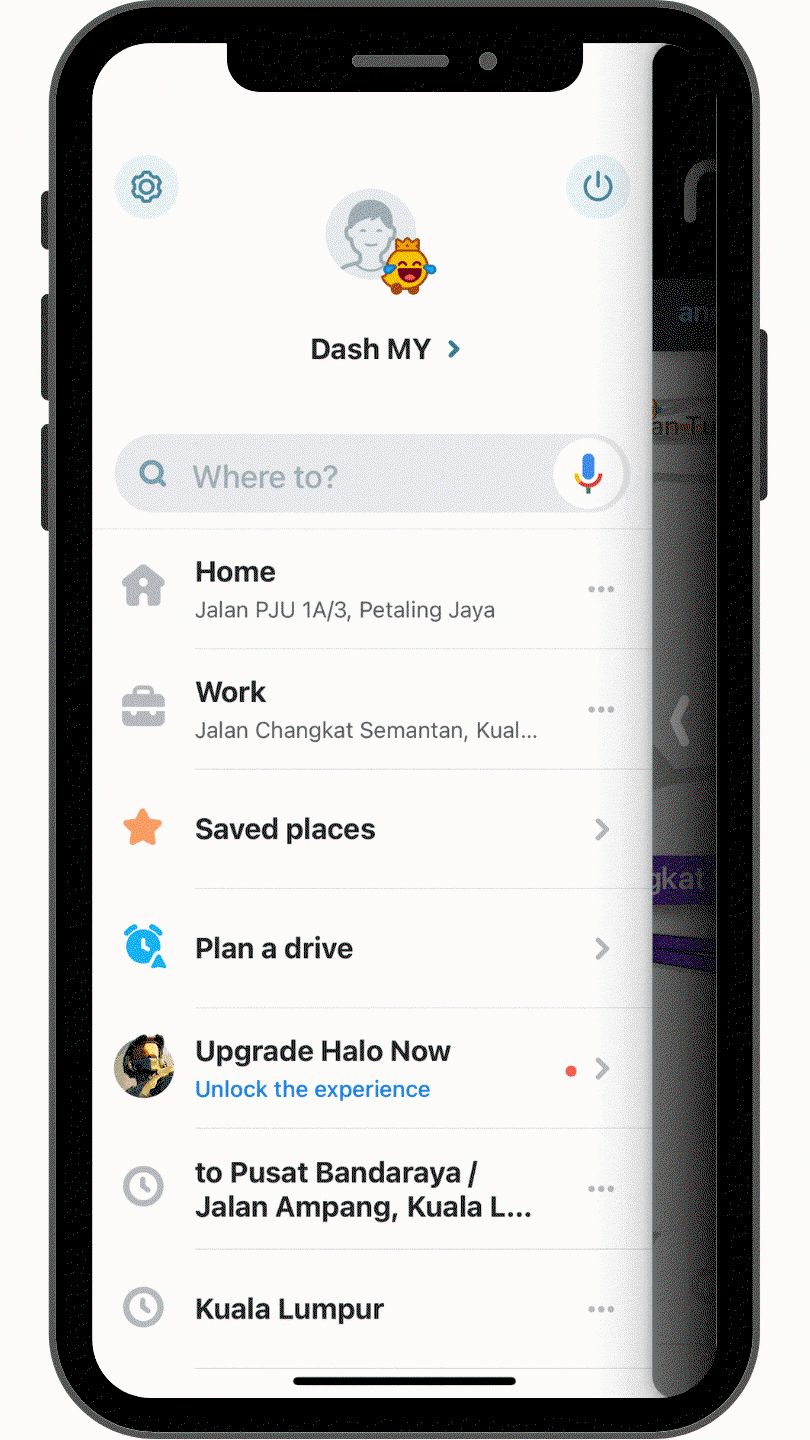 On the left bar, select 'Plan a Drive
'
, then choose '
Connect Calendar
' to link to your phone's calendar. Waze will navigate to your appointment location without having to retype the address. P/S: Always set an accurate address for your destination in the location field.
Similar steps, select '
Connect Facebook
' after tapping on 'Plan a Drive'. If you have any events, Waze will read the information and begin navigating to the location
4. Share Your Location/ETA
When you are on the way to meet friends/family, you may send them your Estimate Time of Arrival (ETA) so they know your drive in real-time.
While Waze is giving directions, tap on the bottom bar to find '
Share drive
' by WhatsApp, Messages, Messenger, or copy link.
5. Use Waze Offline
There is a high chance of Waze losing connection while you drive, especially when you are driving to areas with poor internet connection such as the basement car park or highway surrounded by mountains. This is where offline maps come in handy.
Once you have selected your destination and started your journey, Waze will automatically save the selected route. In case you lose internet connection during the trip, Waze would continue to show you directions. However, Waze will not reroute around the traffic or any obstacles until your internet connection is restored.